Send a Blessing
Have an upcoming baby shower or birthday?
or
You want to surprise someone, just because?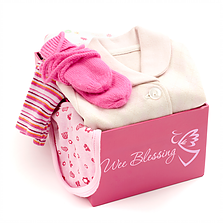 Whatever the case may be, tell us a little about that special someone, you choose your budget and how many outfits you would like to send, and we can put together a package that is personalized and gift-wrapped for any special occasion!
Don't forget, we style newborns to ages 14!
Upon receiving your request, we will contact you with a few package options within 24 hours and remember, there is no obligation to you.
What are you waiting for?